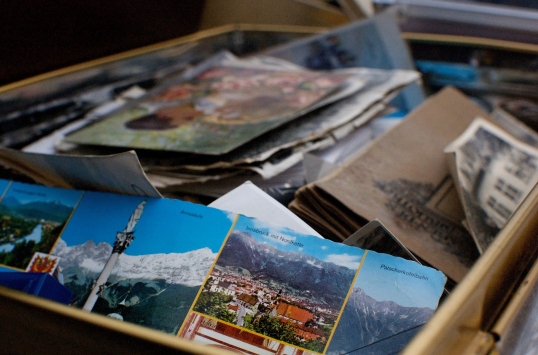 As a Boomer myself, I have taken care of my parents' and grandparents' homes and transitions as they grew older. I joke with my daughter, "I'm organizing my life so you have a really great Estate Sale some day." Seriously though, it is so beneficial to prepare for your future your own way, on your own time. As a certified Seniors Real Estate Specialist, I feel it is important to help my Clients with issues related to aging. Whether for you or a family member, I can empathize, and offer my network of resources to help make life easier to enjoy, longer. We all deserve our Golden Years– just my sense.
I hope you find this article by Michael Longsdon to be very helpful. Feel free to pass it on.
(Original article by Michael Longsdon; http://elderfreedom.net/)
Downsizing for Seniors: What to Keep, What to Leave Behind
Life brings a lot of things our way. And it's easy as the years go by for those things to add up. Over time, what we cherish now might later become annoying or even burdensome. All that stuff begins to feel like a load we can no longer carry; it's just too much. If this sounds like something you've been thinking about, then you might be ready to do some downsizing.
While it's a tough process for some people, it doesn't have to be. There are great benefits that come from freeing yourself of unneeded possessions:
A simpler life. After all, anything you own also owns you. Why keep servicing items that no longer pay their own way? Letting them go is a wonderful way to unburden yourself.
A bigger bank account. One thing almost everyone needs is cash, and a great way to get cash is to sell stuff. Yes, you'll have to let it go for less than you paid, but so what?
More peace of mind. That may sound absurd, but it's true. Studies show that a cluttered home can cloud your mental focus and contribute to problems like depression.
More happiness for others as well as yourself. As the saying goes, "one person's trash is another's treasure."
Fewer hassles, more money, and enhanced satisfaction – all those things and more are yours just by ditching stuff you never use.
Things You Should Keep Forever
There's always a chance of accidentally disposing of something you need now and always. Separating these items from your unwanted possessions is vital if you want to avoid big trouble later on. Before you start downsizing, here's a checklist of things you should set aside:
Copies of your will, tax returns, deeds, contracts, and other legal papers
Savings bonds, stock certificates, and anything else you can readily convert into money
Contact numbers, address books, and pictures or other mementos of loved ones
Medications and a list of all the medicines you take
Essential electronics and chargers for each device
Choosing a Place to Spend Your Golden Years
Once you've downsized your possessions, you're likely ready to downsize your home. The rest of your life can also be the best part of your life, and the key is smart planning. This includes choosing the right housing situation. Your options include:
Staying put. Many seniors are able to remain in their existing homes thanks to aging in place innovations.
Selling your current home and moving into something a little smaller. Your options range from ground-level apartments to a cozy house with a private yard.
A retirement community. Choosing the right location means checking reviews, meeting staff members and residents, and making sure you'll like the local climate, shopping venues, activities, etc.Keep in mind that you're setting yourself up for the next chapter of your life. You want to do this with minimal stress and maximum ease, which is why downsizing can be the perfect choice. Less space to maintain means more time for the things you want to do.
Why You Should Hire a Moving Company
Once you've whittled down your possessions and settled on your new living situation, it's time for the big move. To eliminate the chance of injury and to expedite the process, consider hiring a moving company when it's time to relocate. Here's why:
Professional movers can help relocate boxes and furniture more quickly.
Passing the job to a contractor frees you from sorting through and boxing all those things you decided to keep.
Having movers allows you to detach and focus on what's ahead, not what's behind you.
Change is part of life, and sometimes it's hard. But recognizing the need for change is the best place to start. When you opt to downsize, you're simplifying your life and paving the way so you can enjoy the rest of your days.Posted By Linda Fischer At 6:09 AM