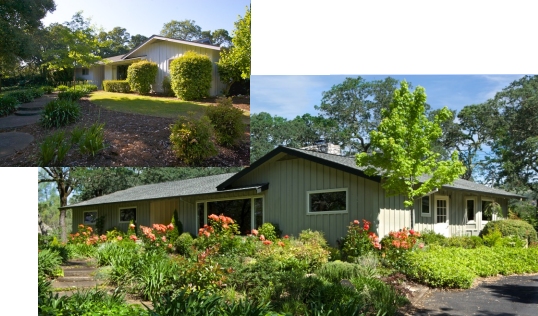 Even drive-by curb appeal is part of "staging."
If you're thinking about selling, set the scene long before your first Open House.
Look at your home as part of a streetscape, and consider what it "says" in marketing terms. Does it look tired and taken for granted, or does it look well-loved, desirable, the envy of all the neighbors?
Here we have the same house, Before and After it was readied for sale. With a little vision you can transform what looks like a rental into what looks like a gracious home, and, put money in your pocket. In a competitive market, which house will sell first, and which house will fetch a higher price? It is the one whose strengths and potential are revealed and whose drawbacks are minimized. In real estate people tend to think about staging interiors. But very often attention paid to exteriors is an untapped money-maker. Paint, landscaping and a little carpentry can add many tens of thousands to a home price.
What a difference well-chosen exterior paint and trim can make! It's easy to prune overgrown plantings, or completely remove out of scale or improperly placed trees and shrubs, to reveal features of a home. Often the home's dimensions, and even windows and porches, are completely obscured by ugly plantings. Make the outdoors as "livable" as the indoors, by "making places" with lighting, pathways, interesting architectural details, seating, colorful plants of the season. Outdoor appeal can make a small house seem like so much more "house," and buyers will pay more.
Data even suggest a brightly painted front door makes a difference in selling price. New, contemporary style address numbers subliminally suggest a home is updated, even if it's not. New outdoor furniture cushions make a home look lifestyle magazine-worthy. And don't forget to put away the "Kentucky," all those little tchotchkes in the garden that are personal. Creating a crisp, neutral, idealized exterior sets up an expectation of a stylish, up-to-date interior. This alerts buyers that there may be competition to purchase this home, and a good offer would be their smartest move. Set the stage starting at the street. Just my sense.
Posted By Linda Fischer At 7:27 PM •