Looking Back and Looking Ahead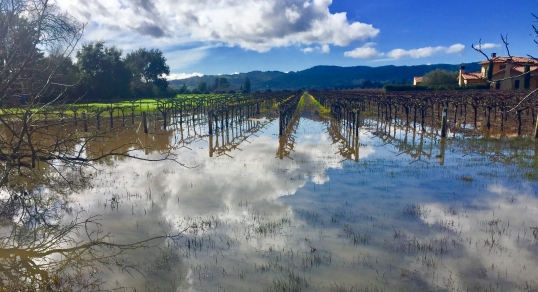 Looking back, and looking ahead, there is no time like the present to borrow and buy.
The City of Napa median price is up 14% year over year. If you purchased a median priced home in January, 2016 at $570,000 it is worth $650,000 in January 2017, a year later. Your home increased in value $80,000! That's $6,666 per month= one could look at that as the monthly cost of not buying.
And, if you purchased last January with a loan, say with 20% down, you used $114,000 to earn $80,000 in one year – that's a 70% return in one year, going on to double your money in under two years. Add to that the fact that you deduct your mortgage interest, which is most of your monthly payment, so put that in the picture as tax savings. Home ownership is simply the best way to live, and grow your hard-earned money.
County-wide, too, prices are going nowhere but up, though more slowly in the luxury category than near the median.
There is no better leverage on cash than this kind of real estate growth. The cost of money is inching higher, nevertheless locking in interest rates can capture the lowest price of borrowing in a generation. Get pre-approved now, and purchase what you can afford as soon as possible, so you don't put yourself behind the affordability curve.
There will be no more parcels created in Napa County, except infill within towns and cities. Beyond the urban core, agricultural preservation prohibits subdividing existing parcels, and so each parcel may have only 1 allowed residence plus possibly a second dwelling and sometimes a cottage. Aerial search of Napa County sees huge swaths of land, but it is reserved. Aerial search in the towns and cities reveals fewer and fewer parcels of undeveloped land. New housing projects have been only 6, 8, 12 single-family homes at a time on a development – and those are just a handful in total. What we will see more of are Accessory Dwelling units on existing lots – homeowners adding a second unit half the size of the main house. Thus density will increase, parking on streets will increase, and property values will increase partly because of the rental income these additional units can fetch. Buyers will buy properties for the present home, and the potential to add an Accessory Dwelling.
Renting in Napa County is tough and getting tougher. A look at your numbers might confirm, the time is now. Even if you cannot afford your ideal, if you purchase now and improve and sell in a few years, you'll be on your way to your ideal.
You need a reliable and savvy lender, and a Realtor who will help you secure that home while guarding your investment and negotiating hard for you. Work smart, work as a team with your Realtor and lender. I'm always very glad to introduce buyers to top local mortgage professionals who will care about my Clients as much as I do.
When to buy, what to buy, how to finance, with what professionals working for you: These are a few of the most important decisions you'll make in life. Just my sense.
Posted By Linda Fischer At 6:34 PM •